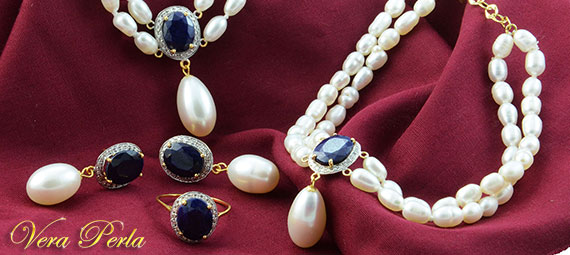 About Us
From the heart of Dubai, from the City of Gold, Vera Perla developed from an online boutique selling designer watches, sunglasses, and jewelry into an international brand itself. Melting together the classic Italian style with traditional and contemporary Arabian elements, blending a fine array of naturally-occurred gemstones and fusing it with the most precious metals, ungrounded from the earth. Vera Perla's designs stand out through refined style and elegance. Reaching thousands of customers every month, in the UAE and the Middle East, the brand has one of the most sought-after fine jewelry collection online. Inspired by you, each piece is just as unique as you. "Vera Perla" (the Italian word for "real pearl"). Vera Perla jewels are trendy and original due to unique ways of transferring the vision of the designer into the crafting process and due to their oriental touch added with its 24k gold finish on pure and real fine metals such as 10k, 18k, 22k, and 925 sterling silver.
Vera Perla is a globally registered brand, all intellectual property (IP) rights are protected by the laws.
Vera Perla belongs to VERA PERLA GENERAL TRADING L.L.C company, physically located in Dubai Gold Market, and a registered company under the Department of Economic Development (DED) which is the government body entrusted to set and drive the economic agenda of the emirate of Dubai, UAE.